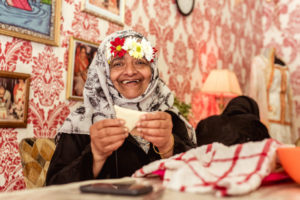 The Making of a South Asian Wedding
Pulling at threads developed in 2017's 'Front Room Factories', which aimed and succeeded in unearthing the most inspired and inspiring of kitchen-table and front room production lines in Lancashire's communities, Wolverhampton-based theatre producer and artist, Dawinder Bansal explores the crafts and traditions which come together to create a traditional South Asian wedding.
Dawinder wants to take you back the 80s, when people had time for each other and time to make. Step into the home of a South Asian family in Britain where people are busy getting ready for something – a wedding! And it's a big one: uncles and aunts are cooking celebration samosas, friends and neighbours are throwing a Mehndi party, the whole community has turned out, making everything imaginable – sweets, decorations, garlands and music. Share the skills and the experience of the big day with a genuine 1980s celebration of culture, making and connection.
Dawinder embedded herself in the local community to unearth the finest artisan makers in Blackburn, collaborating with Masterchef's Moonira Hinglotwala, local pie-queen (and festival favourite) Zainab Bilal and scores of others in a spectacular celebration of British Asian culture. They come together in a fully realised 1980s living room and wedding reception hall in an astonishing explosion of sights, flavours, crafts and home-baked humanity. This is a festival experience you need to be part of.
Three weeks ago, I was a stranger in Blackburn but when I explained my project and my reasons for doing this work – every single person I met welcomed me with open arms. That is not even an exaggeration. Over the past three weeks, I have met at least 200 new people in Blackburn and many of these people invited me into their homes, invited me to their family weddings and special occasions in preparation for my new art installation and film. They shared part of their lives with me and I appreciate every single person I met & conversations I've had since working there – DAWINDER BANSAL
As part of the Making of a South Asian wedding Dawinder met Lauren Laverne to share her Memory Tapes. The full programme is available at the BBC.
The Artist: Dawinder Bansal
Passionate about telling hidden stories to amaze, entertain, inspire and provoke audiences, Dawinder Bansal an award-winning artist & theatre producer with a record of weaving cultural heritage and contemporary stories into successful performances. Dawinder Bansal is an award-winning theatre producer and artist with a track-record of skilfully weaving cultural heritage and contemporary stories into successful performances. Her production for the Southbank Centre, Mother Tongues from Farther Lands, was a finalist for Best Stage Production 2017 in ITV's Asian Media Awards.
The Makers
Moonira Hinlotwala – BBC Masterchef Finalist 2018
Riff Howarth – Professional make-up artist
Nadeem Yaseen – Poshaak, est. 1965
Bilal Ibrahim Patel – Designer & owner, Zefaith Haute Couture
Lata Kotecha – Wedding decorations maker
Ashok Chudasama – Wedding photographer

Gossip Beauty Salon

Halima Hussain

Dhamak Punjabana Di – Award winning Dance Group