Towneley Hall, Burnley
7th – 30th September
Saturday – Wednesday 12–5pm
Thursday 12.30–5pm
Admission £5 per adult (for a 12 month pass)
Children under 17 Free
(Parking charges also apply)
From the finance office to the shop floor, earlier this year, four employees of Burnley fabric company Panaz had their lives, loves and work experiences turned into four new patterns for fabrics and wallpaper for their homes.
Fascinated by the connection between homelife, personality and work environments, Grennan and Sperandio asked the four employees to become clients for these bespoke products.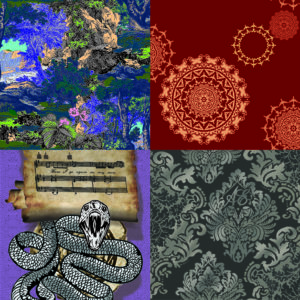 The artists invited Glenn, Peter, Martine and Anita to become the centre of their work, holding intensive design sessions in their kitchens, living rooms and workplaces.
They created patterns featuring coy carp, Whitesnake, Tibetan mandalas and King Charles Spaniels. The four new fabrics and wallpaper were used as upholstery, curtains, bed linen and on living room walls.
(Originally commissioned by the Festival of Making & Super Slow Way as part of Art in Manufacturing)