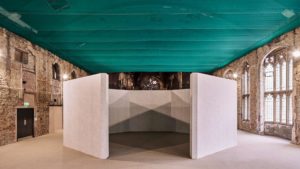 In the faded splendour of Blackburn's Cotton Exchange, amid the light pouring in from the stained glass windows, a 3.5 metre high, octagonal structure tricks the eye in the latest work by renowned manipulator of colour and light, Liz West.
Appearances are purposely deceiving as the structure, clad in bespoke wallpaper, purports to be one colour, when it is really the sum of its multi-hued parts, a fact revealed as visitors move towards and inside the piece. The standard test for superior shade discretion, the Farnsworth Munsell 100 Hue Colour Vision Test, is essential to Graham & Brown, with specialist staff requiring a superior score.
After taking the test, and achieving superior colour vision, the artist took new ideas and long-term ambitions inspired by Joseph Albers 1963 book, Interaction of Colour, to the drawing board and, after taking colour samples from the Cotton Exchange's windows, took five to six pens at a time in her hand and 'drew' coloured dots on white paper. Testing different build ups of different combinations of colours, West eventually hit on the colour she had in mind – a true grey, only determinable from distance. Observing the repeated octagons in the Cotton Exchange's ceiling design, the half octagons of the window bays and the octagonal shape of the foyer the shape of the final installation was determined by the building itself.
The Artist: Liz West
Liz West lives and works in Manchester. She graduated from BA (Hons) Fine Art Sculpture & Environmental Art at Glasgow School of Art in 2007. She regularly exhibits nationally and internationally including at: Kraftwerk, Berlin; Chester Cathedral; Bristol Biennial; Natural History Museum and Royal British Society of Sculptors. Liz was recently shortlisted for the Aesthetica Art Prize, Best Light Art at the Darc Awards and Lighting Design Awards.
The Manufacturer: Graham and Brown
Started by two friends, Harold Graham & Henry Brown after the second world war, Graham & Brown have built up an international reputation from its manufacturing base in Blackburn, Lancashire. Selling to over seventy five countries, with divisions in France, Holland, Australia, Russia, USA, and China, they continue to innovate in design and product development and work with high profile designers and emerging design talent, with the brand recognised as a "cool brand" seven years in a row.