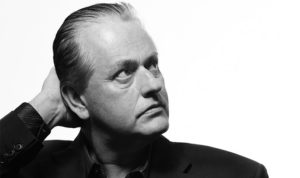 Church of Rare Souls
An exclusive invitation to commune with the songs and stories of Ware's haunting soundscape in the decaying splendour Tony's Empress Ballroom.
'Don't touch a thing.' So Martyn Ware instructed our producers when he first stepped into the abandoned grandeur of Tony's Empress Ballroom. The legendary home of Northern Soul all-nighters has lain nearly untouched since its closure in the 1990s, preserving the creaking dance floors and lipstick-marked glasses of those heady nights.
Northern Soul classics from the Ballroom's heyday whisper through Ware's immersive three dimensional soundscape, intertwined with human voices and industrial sounds taken from the factory floor. Driving towards a sonic conclusion, the haunting piece comments on the 'work hard, play hard' cultures of Northern towns where work ruled the week and dancing ruled the weekend.
Join Ware & Illustrious Company and commune with the Rare Souls to the sounds and stories of the workers, before the ballroom comes unexpectedly to life…
The Artist: Martyn Ware
Martyn Ware is the founder of both the Human League and Heaven 17. He has featured as record producer and artist on recordings totalling over 50 million sales worldwide – producing Tina Turner, Terence Trent D'Arby, Chaka Khan, Erasure, Marc Almond and Mavis Staples.
Since founding Illustrious Company with fellow synth pioneer Vince Clarke in 1990, Ware has developed and consulted on sound installation for a vast variety of projects and clients including the Venice Biennale and The National Portrait Gallery, London.
The Venue: Tony's Ballroom
Lancashire was the home of the Northern Soul All-Nighter and, after the fire at Wigan Casino, Tony's Empress Ballroom was one of the places that kept the tradition alive. When the rave scene hit North West England in the late-80s, it was commonplace for hundreds of people to drive into towns like Blackburn looking for a party, with many taking place at Tony's during that exciting period. Ever since the Industrial Revolution, from rock and roll to jazz, brass bands to punk, music has been an outlet for workers and provided a meeting place for communities.