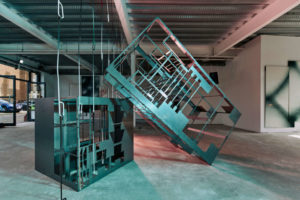 Powder-coated industrial paintings and the story of a vaudeville magician feature in a sculptural installation that responds to the unique ecosystem of Ritherdon.
Ritherdon's 20th Century production of magic tricks is shrouded in secrecy. The mysterious relationship between company founder Percy Ritherdon and Chung Ling Soo, the American illusionist whose fatal encounter with a magic bullet trick so shocked 1918 Britain, has found reflection in Nicola Ellis' deep residency with the company. Like the Chung Ling Soo, the artist has subverted factory processes for the production of something bespoke, producing a series of powder-coated 'paintings' aping the presence of the fabricators hand, while leaving the final mark of creation to the automated machines of manufacturing.
A vanishing act also features, as the left-behind shapes present in sheets of metal after factory cutting take their place in Ellis' sculptural ambitions, creating a solid structure that gives flesh to the negative space. As scraps of metal are temporarily lifted from the Ritherdon site, they will be returned to Ritherdon to re-join their predetermined journey.
You can read more about Nicola's residency with Ritherdon here in this blog by Lauren Velvick
https://www.a-n.co.uk/blogs/art-in-manufacturing-for-the-national-festival-of-making-the-digital-archive/
The Artist: Nicola Ellis
Nicola Ellis is interested in the material properties, function and circulation of metals and their impact on human culture.
Her work draws on the visual language of industry operations, fabrication and profiling processes. The parameters for sculpture, installation and drawings include relationships between people, businesses and places of production.
The sculpture and installations often feature scrap material and industrial detritus, referencing the tradition of mid-twentieth century abstract metal sculpture. Breaking from this tradition, Ellis orchestrates situations for improvised and impermanent works. Materials are often loaned from places of industry local to an exhibition site; treating steel as a kind of currency in its own right. Each work is not only a response to its material properties and site but it also functions as a reflection of material and industry within local, national and international systems of value.
The Manufacturer: Ritherdon
Established by Percy Ritherdon in 1895 to take advantage of the Edwardian bicycle boom, Ritherdon & Company has survived two World Wars and the Great Depression thanks to three resilient generations of the famous family. One-hundred storied years on and the firm still continue to produce a variety of products for a variety of industries; from meter boxes and meter box repair units for the Housing industry, to passive safe products, feeder pillars and electrical enclosures for the Highways industry. A combination of a passion for innovation and close working relationships ensures the continual development and expansion our product ranges.