Super Slow Way are happy to announce the return of Wetlab, our floating laboratory, to the Leeds & Liverpool Canal this summer. This floating pavilion will be home to artists and makers running workshops for the public at Thursby Gardens ( just under Colne Road Bridge. Nearest parking Monk Hall Street) from May 28th until June 8th. 
Wetlab is part of The Super Slow Way Linear Park pilot projects; a series of projects and events which will give residents living along the canal the opportunity to get involved, try something new and think about how the canal, and the many unused spaces alongside it, could become a great space for us all to use and share.
Workshops include Paper Book Making, Mask Making, Phone Photography and Bog Building (see links to each workshop below!)
10 – 12 and 1- 3pm each day.
The Workshops are free and all are welcome!  
Wetlab will be moored at Thursby Gardens, just under Colne Road Bridge. Nearest parking Monk Hall Street ('What3words' app – location of site:  labels.stuff.tone)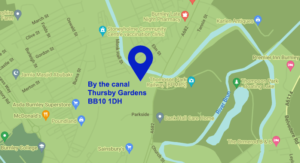 The Pennine Lancashire Linear Park pilot project is funded by the UK Government via the UK Community Renewal Fund