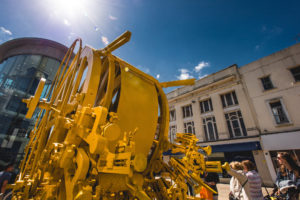 The Museum of Wallpaper/Grace
Five tonnes of industrial machinery appears in the centre of Blackburn as part of Sarah Hardacre's ambitious project. The disused Surface Print wallpaper machine, invented in Darwen in 1838, has been repurposed as sculpture by the artist with the addition of a symbolic yellow pigment.
Grace – so called after the wife of Charles Potter, one of the pioneers of the original Surface Print machine – is a startling feat of reappropriation, rich in historical reference and suggestion, investigating domestication, power and a gendered world via Charlotte Perkins Gilman's groundbreaking text 'The Yellow Wallpaper' and Lancashire's proud manufacturing heritage.
This dialogue is continued in her exhibition, The Museum of Wallpaper through archival images, objects and performance. The two form a fascinating journey into the industrial and social histories of Surface Printing and manufacture of wallpaper.
The artist: Sarah Hardacre
Sarah Hardacre is a visual artist and printmaker and is currently Fine Art Facilitator on the BA(hons) Fine Art course at University Centre Blackburn College. With a portfolio that spans collage, silkscreen print, large-scale installations, murals, performance and projections, Sarah's work investigates the development of the Welfare State and the histories of the Working Class and Women's Rights movements. Her work is regularly exhibited internationally and is included in the public collections of the British Museum and British Council and private collections worldwide including Damien Hirst's Murderme collection in London.
The Manufacturer: Surface Print
Surface Print are known as the industry leaders for manufacturing the highest quality, innovative wallpapers. The fourth-generation family-run company form a proud part of Lancashire's storied heritage of wallpaper printing and have, over the past three decades produced wallpapers for a host of influential & well-known brands. Building on the success of Surface Print, Managing Director James Watson and his sister, Abigail Watson, launched their own brand of luxury wallpapers, 1838 Wallcoverings. The factory blends traditional knowledge and craftsmanship with cutting edge design and innovation to create high end, luxury wallcoverings.