Thurs 7th September – Sunday 5th November
Opening Times: Wednesday – Sunday 12-5pm Admission fee to Gawthorpe Hall applies
Exhibition Tour with Serena Partridge – Sunday 10th September 12.30 – 1.30pm
FREE
Luminary presents embroidered installations by Serena Partridge inspired by Rachel Kay-Shuttleworth and the textile collection she created. In this 50th anniversary year of Miss Rachel's death, Luminary celebrates her as maker, teacher and collector. It is presented in her home, Gawthorpe Hall, an Elizabethan gem in the heart of industrial Lancashire.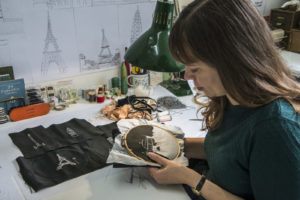 Serena creates small, intricately stitched artworks inspired by historical textiles and storytelling. She often presents her work as museum artefacts with detailed labels, which add narrative and context. Working on a larger scale for Luminary, Serena has incorporated Miss Rachel's ethos of wanting to keep traditional craft skills alive by including stitch elements made with local schools and groups in her installations.
Luminary is a Gawthorpe Textiles Collection commission and part of Meeting Point2 by Arts&Heritage; presenting 10 new artist commissions in museums across the North East, North West and Yorkshire. Meeting Point2 is funded by Arts Council England Museum Resilience Fund.