The latest blog from the Local Colour group and artist Claire Wellesley-Smith
The Local Colour project, based at Community Solutions North West, Elmfield Hall, Accrington has spent some time revisiting the connections the site has to World War One in the lead up to the centenary commemorations of Armistice Day. This included the story of Frederick Albert Gatty's patented wash and lightfast mineral khaki dye in 1884, used extensively for army uniforms from the 1890s onwards.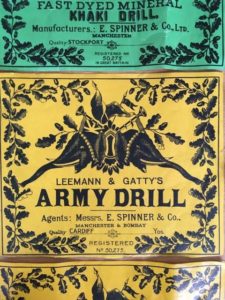 In 1914 the Gatty family converted Elmfield Hall for use as an auxiliary military hospital. It was used for military personnel recovering from physical injuries sustained during the conflict. The hospital had 7 wards and the average stay for patients was one month. A member of our group has visited Lancashire Archives and found images of recuperating soldiers and hospital staff.
The group also used simple mono-printing skills and hand-stitching to create a collaborative textile piece that explored the local connections to the conflict.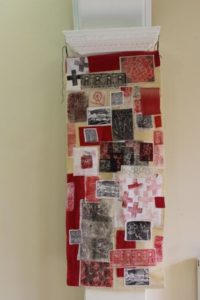 Another participant has begun to research the stories of the 133 individuals listed on the war memorial by Walter Marsden inside the hall. Looking back through census records we have identified men who worked in the local dyeing and printing industries, some for businesses connected to the Gatty family. We have found images of some of these men and the group was keen to include their stories in the commemoration events at Elmfield Hall.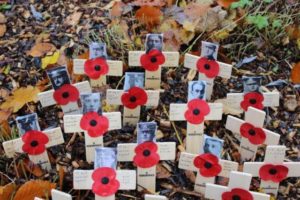 This was unveiled by the group as part of armistice day commemorations on 11thNovember.