We are delighted to announce the nine artists who will be taking up residence in local industry as part of the Art in Manufacturing project - part of our commission with the National Festival of Making.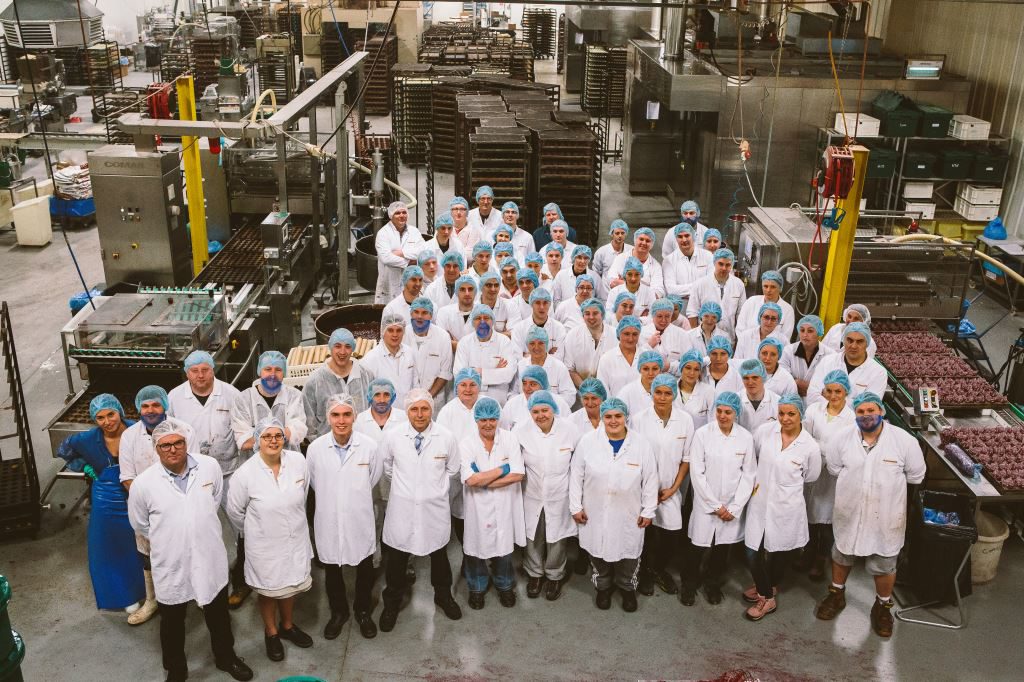 As part of the first ever National Festival of Making, a celebration of British making, supported by arts commissioners Super Slow Way and funded by the Heritage Lottery Fund, exciting new art will roll off the production lines of factories in Pennine Lancashire as nine, specially commissioned artists negotiate heavy machinery, industrial production techniques and up to 160 years of making heritage.
The resulting artworks and performances will be revealed as part of the festival, appearing around Blackburn town centre on Saturday 6th – Sunday 7th May 2017 for visitors to discover over an exciting weekend of culture, events, workshops, markets and more.
Exchanging their studios for the hot houses of modern manufacturing, our selected artists will enjoy an unprecedented level of access to staff, machinery, company archives and materials at the nine partnering manufacturers, all located around Pennine Lancashire in North West England. Art In Manufacturing not only seeks to develop the ideas of artists in unfamiliar environments and create engaging and accessible new work, but also encourage investigation into Britain's manufacturing heritage, specifically that of Lancashire, with direct engagement from staff members in each participating company.
It's our great pleasure to reveal all of the participating artists and manufacturers, who are now sharing their ideas and inspirations with each other to create nine completely new pieces of work – from dance to sculpture! Thanks to all of them for being part of it.
Darwen Terracotta and James Bloomfield
An employee-founded company, rooted in 110 years of expertise, Darwen Terracotta employs specialist, traditional skill and innovation for the meticulous restoration of missing or damaged historic clay architectural elements and develops bespoke terracotta features for new build properties. With a practice that deals with objects as artefacts, James Bloomfield's work across sculpture, ceramics and print explores personal connections as well as social or political issues, elements that he will explore with Darwen Terracotta's highly-skilled workforce.
www.darwenterracotta.com / www.jamesbloomfield.co.uk
Panaz and Grennan and Sperandio
Over a quarter of a century, Burnley-based Panaz has become one of Europe's leading and most innovative suppliers of high quality decorative fabrics and wall coverings for hospitality, healthcare and corporate sectors including hotels.  Working together for nearly 30 years after meeting at the University of Illinois, Chicago in 1988, graphic artists, Simon Grennan and Christopher Sperandio will investigate Panaz' personnel archive at the company, featuring four employees and their families to develop new patterned fabrics and wallpaper for a specific use in their own homes that draw on their life experiences.
www.panaz.com / www.simongrennan.com
Roach Bridge Tissues and Jamie Holman 
A family owned and managed company, based in the village of Samlesbury; Roach Bridge Tissues are specialist printers and converters of wrapping tissue paper. Pairing with Roach Bridge Tissues, the artist Jamie Holman aims to create tissue paper based work that can be mailed to people ahead of presenting installations using tissue paper and light boxes.
www.roachbridgetissues.com / www.jamieholman.com
Cherry Tree Bakery and Ruth Jones
Laban University-educated choreographer and contemporary dancer, Ruth Jones will collaborate with Cherry Tree Bakery to develop a Rudolph von Laban-inspired 'Movement Choir'. Additionally, a professional quartet inspired by the factory will be performed during the festival weekend. For over thirty years, the independent, family-run, Burnley-based bakery has produced bespoke sweet products, including their signature Chorley Cake.
www.cherrytreebakery.co.uk / twitter.com/choreoruth
Silentnight and Bella May Leonard
Established in 1946, under the name Clarke's Mattresses Limited, bed and mattress makers, Silentnight's history in Lancashire began in 1961 when the bed and mattress maker moved to Barnoldswick. Silentnight engages in continuous research into people's sleeping habits, building the latest scientific developments and technical innovations into their sleep products. Embroidery artist, Bella May Leonard, who has previously worked with Ruthin Craft Centre and The Whitworth Art Gallery, Manchester, seeks to promote embroidery as an accessible, expressive art.
www.silentnight.co.uk / www.bellamayleonard.com
The Cardboard Box Company and Lazerian
Based in Accrington, The Cardboard Box Company designs, prints and manufactures cardboard boxes, applying their expertise to develop custom solutions in cardboard application, including industrial and retail packaging design, focusing on product presentation as well as protection. Manchester-based creative studio, Lazerian will work with The Cardboard Box Company to develop a large scale cardboard structure for Blackburn town centre, giving visitors the opportunity to immerse themselves in a multicolour experience that documents the technical and historic use of colour in factories.
www.thecardboardbox.co.uk / www.lazerian.com
Graham & Brown and Michelle Wren
Established by two friends, Harold Graham and Henry Brown, in 1946 despite a severe shortage of paper during the war, Graham & Brown is now run by the third generation of the founders' descendants as one of the world's leading manufacturers of wall coverings, including wall paper and wall art products. Exploring the Graham & Brown story, the production facilities, products and stories of the workers, artist, Michelle Wren will work towards creating an immersive installation during her residency.
www.grahambrown.com / http://unbastarto.wixsite.com/unbastarto/gallery
MGS Plastics and Robyn Woolston
Based in Blackburn, MGS Technical Plastics is a family owned plastic injection moulding company, established in 1974. The 40 years' experience in plastics, tooling and manufacture, as well as a 60-strong workforce, is used to make further innovations in plastic injection moulded products and components. Visual Artist, Robyn Woolston aims to create a large-scale installation using thousands of pieces of plastic waste material and a film in response to her residency and an industry facing issues including a looming, digitally-led fourth Industrial Revolution.
www.mgsplastics.co.uk / www.robynwoolston.com
Cookson & Clegg and Jeni McConnell
The Cookson & Clegg story begins in Blackburn back in 1860, but now led by renowned fashion entrepreneur and judge on BBC's The Great British Sewing Bee, Patrick Grant, the company produces garments for many UK clothing brands, including the recently launched social enterprise, Community Clothing. Working with the Cookson & Clegg team, Jeni McConnell will employ the four key components of her practice – people, places, objects and narratives – to make links between the factory, the community that surrounds it, the products made there and the people who have made them.
www.cooksonclegg.com / www.jenimcconnell.blogspot.co.uk
Elena Gifford, Co-Director of The National Festival of Making and Creative Producer, said: "Through 'Art In Manufacturing' we're creating an unprecedented link between successful, modern industrialists, the communities that surround them and big-thinking artists. The resulting installations and performances will form an essential part of the festival experience and shouldn't be missed."
Laurie Peake, Director of Super Slow Way, said: "The name given to these residencies give away the project's intentions, to expose the Art in Manufacturing in East Lancashire, where every town and industrial estate is teeming with industry and creativity that is otherwise invisible to the people that live there. Introducing artists into these environments throws a spotlight on these amazing places and makes workers themselves think differently about the work they do, whether making delicious muffins for coffee shops throughout Europe or fine tissue paper destined to wrap designer objects.