After three years of artist and industry collaboration, we're delighted to launch the fourth season of Art in Manufacturing with a residency between artist Raisa Kabir and manufacturer John Spencer Textiles, in association with Queen Street Mill.
The artist will show new work at both the British Textile Biennial in October 2019 and the National Festival of Making in 2020.
To date, 22 artists have been paired with manufacturers whose work in textiles, paper and engineering have links to international making industries – historically, with Lancashire's rich making heritage and within a global manufacturing community of modern making. The commissioning programme, a collaboration between National Festival of Making and Super Slow Way provides artists an incomparable platform to make new work in and alongside major industry. Artists co-create with factory workforces who share skills, craftsmanship and personal histories that often directly inform artistic outcomes that interlace traditional techniques and materials with challenging and contemporary ideas.
The first Season Four artist to be revealed for 2020 is Raisa Kabir, an interdisciplinary artist and weaver, who utilises woven text, textiles, sound, video and performance to materialise concepts concerning the politics of cloth, labour and embodied geographies. She has participated in residencies and exhibited work at The Whitworth, The Tetley, Raven Row, Cove Park, Textile Arts Center NYC, and the Center for Craft Creativity and Design U.S. Her research into non mechanical looms, bodies and machines, has taken her to Mexico and Bangladesh.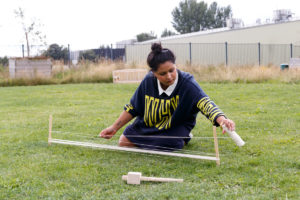 In this special co-commission between National Festival of Making and the British Textile Biennial programme, Raisa Kabir will be in residence with textile factory John Spencer Textiles, a family owned weaving business, and will also explore the industrial textile heritage of Queen Street Mill in Burnley.
During Raisa's work in industry, she will encounter the textile archive at Queen Street Mill, as well as contemporary industrial textile production at John Spencer. The artist will work in collaboration with local residents during her residency to design and collate a new 'woven' archive. This archive will be formed from local personal narratives as well as historical contexts, to be accumulated into woven patterns to create a future Pattern Book of Lancashire.
The Art in Manufacturing residency will culminate with a show at the fourth National Festival of Making on 6th and 7th June 2020.