Local Colour blog post 14 by Claire Wellesley-Smith
The Local Colour residency based at Elmfield Hall, Gatty Park Accrington has recently come to an end, the final three months of sessions moving online due to the Covid-19 crisis. The research and development for the project began in June 2016 when I visited Community Solutions North West, a social enterprise that specialises in community engagement and support for socially isolated adults and finding out more about the heritage of their site. Elmfield Hall, now the base of Community Solutions, was built in 1853 as a family home for textile industrialist, Frederick Albert Gatty (1819 – 1888). Gatty specialised in Turkey red calico printing and dyeing techniques and later invented a mineral khaki dye for use in the production of fabric for army uniforms. His personal dye house is still on site where it is believed he conducted his dyeing and printing research.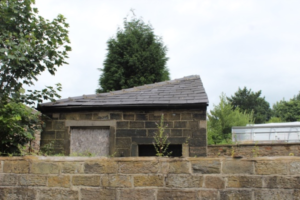 An artist residency that lasts for four years is a rare thing. This extended time has allowed the project to grow slowly, discovering and researching using the local textile heritage but also developing the story of the Local Colour group that has met at Elmfield Hall many times over the residency. Since the start around forty people have engaged directly with the project, and of those, ten have attended for at least one year, some for the duration. Emma Shercliff writes that 'Site-specific, collectively made textiles are particularly effective producers of histories that entwine place and people.'[i] We have seen our project grow alongside a small textile garden where, starting with a handful of seeds, we grew colours connected to the textile dyeing and printing heritage of the area, particularly madder, source of 'Gatty red'. We have used these dyes in printing processes on local cotton, most recently with a printing press converted from a mangle manufactured locally at the Ewbank factory a century ago. Our sessions included an element of making: from dyes and inks, to cyanotype and collograph, block and eco-printing. Alongside these local sessions we have made links with the wider community, in Accrington and further afield. We have developed work that tells a story of innovation in this small part of East Lancashire and shared it with many others as part of the British Textile Biennial and at other events.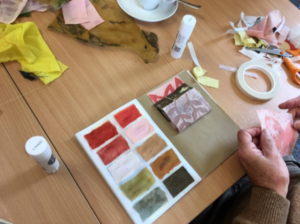 I have written before about the roots of the madder plant, slow growing, tangled, embedded in the place. This project as well as allowing the fully seasonal process of creating colour from seed to fabric has allowed me as an artist the space for thoughtful experimental work in dialogue with a community, something that has produced a rich story, offered participants an opportunity to tell their own and share their voice, 'We've talked about family heritage and voices from the past… when you've grown up around Gatty Park it's been great seeing all these people come to events and say 'I used to play here'. In the final few sessions, unable to work on creative activities together due to Covid-19, we continued to meet online. This offered an opportunity to share experiences of lockdown and develop our storytelling skills. A participant created a reflection on lockdown using his stamp collection.  A number of object handling sessions explored the idea of a 'Museum of our Homes'. The obsolete – fundraising books of pins, cigarette cards with household hints (how to protect pipes, whitewash a ceiling). Mystery objects – needle punch machine or rug tufting needle? Pit tokens, a photograph a Roman Catholic procession through Accrington in the 1950s. Objects from childhood, working life and local stories were used to construct new ways of looking whilst, as academic Rose Sinclair describes, 'Not being in the spaces we're normally in.' an opportunity to re-look at objects, '… not just as objects, but how does this become a different kind of archive, of space, of time, of people. Because these are not just objects, they are things that make us think of how people fit together.'[i]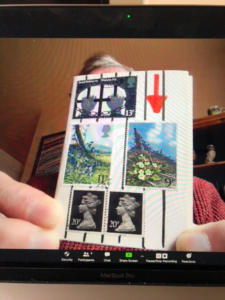 The stories connected to Gatty Park and Elmfield Hall are about to continue at Community Solutions in the form a new project, funded by the National Lottery Heritage Fund through the support of National Lottery players. Gatty's Gift: A Centenary of Community and Colour will look at the heritage in the 100th anniversary of the park and building being given to the local community in June 1920 and will culminate in an exhibition at the Haworth Art Gallery in 2021. Additional support from the Cotton Industry War Memorial Trust will also continue to support the work towards the eventual creation of a community museum at Elmfield Hall. For information about how to get involved in this new project, which will offer research skills training, oral history recording skills and the opportunity to be involved in the creative work towards the exhibition please contact info@csnw.co.uk.
I would like to say a huge thank you to everyone at Super Slow Way for allowing this project the space and time it needed to develop, to Community Solutions for hosting and supporting the residency and especially to all those who participated. The success of the project is theirs.
[1] Emma Shercliff (2019) Material Memories in Storage: The Aftermath of Site-Specific, Collectively Made Textiles, TEXTILE, 17:4, 347-356
[1] Twitter: https://twitter.com/GoldsmithsUoL/status/1253315183339950080