Cath Ford and her Creative Support group are launching an exhibition of 'happy art' and a series of workshops in Blackburn.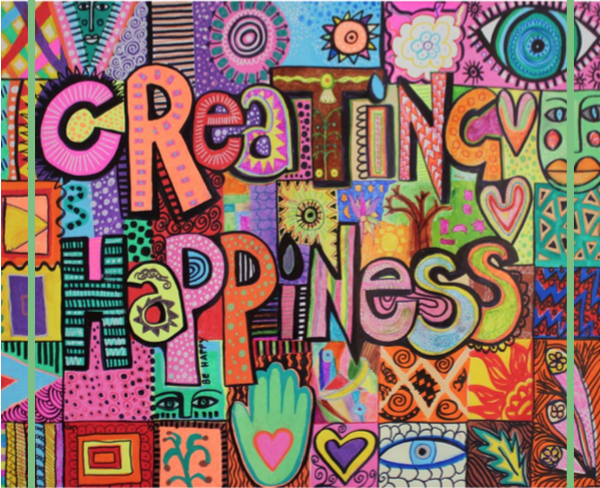 Come along to BB1 for Life from Monday 28th November for exhibition of art created by people using the services of Creative Support Blackburn Social Inclusion Project working with local artist Cath Ford. The exhibition and workshops celebrate the joy of making things together. The group is inviting members of the public to come and see the exhibition and take part in activities that they have enjoyed over the last year.
Come and have a cup of tea in the friendly café, meet people and maybe some of the artists. Also look out for some of their 'happy art' that might pop up around the town.
WORKSHOPS
Launch & Celebration Day
Monday 28 November, 10am – 4pm
Come and join the artists to celebrate the opening of the exhibition and take part in free creative activities.Free.
Mixed Media Collage
Wednesday 30 November, 10am – 12noon
Create your own artwork on the theme of happiness and take it home with you. Free.
Group Drawing
Friday 2 December, 10am – 12noon
Come and do some doodling and add to a big group artwork. Perfect if you love colouring in and creating patterns! Free.
Pottery Painting
Friday 2 December, 1 – 3pm
Relax with a couple of hours of pottery painting. Items will be glazed and red and available for collection the following week. £2.50 per item.
EXHIBITION OPEN
10am – 4pm
Mon 28th November Wed 30th November Fri 2nd December
Upstairs at BB1 for Life
72 Northgate Blackburn
Phone 07584 261523
Some art work will be exhibited on the ground floor, but sadly there is no disabled access to the first floor main exhibition.