This year marks 200 years of the Leeds & Liverpool Canal. Join us this week for some special events that celebrate the waterway that fuelled the Industrial Revolution and is now inspiring the Super Slow Way creative revolution in Pennine Lancashire!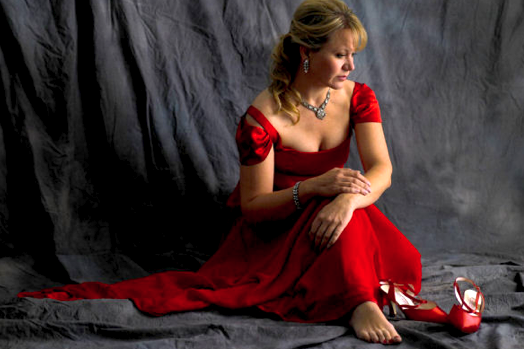 To mark the Bicentenary of the Leeds & Liverpool Canal, Lancashire is celebrating by holding a unique musical concert and will be welcoming the Kennet boat as it recreates its inaugural voyage with a Red Rose installation at Eanam Wharf.
The festivities begin with Super Slow Way: A Rhapsody to the Leeds & Liverpool Canal, a fantastic musical celebration of our waterway at King George's Hall, Blackburn on Sunday 16th October, 4pm. Words written and performed by national treasure and Yorkshire poet Ian McMillan tell the story of the canal, which throughout its 200-year history has had many twists and turns along the way. Ian's words pay homage to the artists and workers who created the canal and tells the stories of the people who have lived along its banks, past and present.
The concert features hundreds of local voices, comprised of Blackburn People's Choir, voices of Blackburn's primary school children and a specially formed chamber choir. This local talent will perform alongside internationally renowned artists from the region, including Lancashire-born Amanda Roocroft, The Liverpool Philharmonic's Jonathan Aasgaard and Yorkshire's multi-award-winning Brighouse & Rastrick Band.
This will be a truly unique musical experience – book tickets now!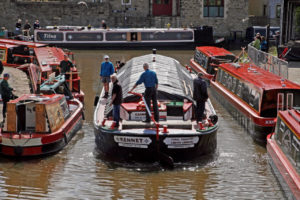 On Wednesday 19th October, the restored Kennet short boat will arrive at Eanam Wharf in Blackburn – marking the 200th anniversary to the day of the opening of this stretch of the Leeds & Liverpool canal – will be recreating its inaugural voyage with Canal & River Trust and Leeds & Liverpool Canal Society. It will be at Eanam Wharf  from 2-4pm with a welcome including the army brass band, pipers, a Tanzanian gospel choir, school children, peeling church and cathedral bells and the Lord Lieutenant of Lancashire.
In true Lancashire fashion, the Kennet will be offered a warm welcome by a unique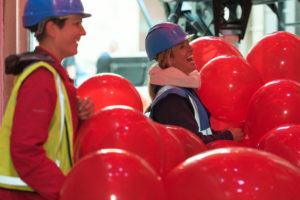 installation: When The Red Rose by Steve Messam, in collaboration with Marketing Lancashire. A vast, red, floating welcome for the arrival Steve Messam's glowing, warm-hearted installation reflects the pride and optimism that the canal brought to Blackburn 200 years ago and which is a driving force behind the town's creative and manufacturing renewal.
Book tickets for Super Slow Way: A Rhapsody to the Leeds & Liverpool Canal